Museo Palacio Cousiño visitors guideline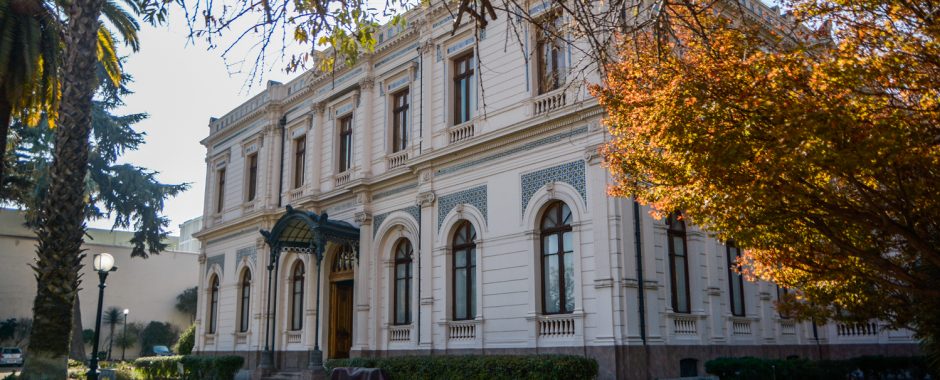 Facing the current sanitary emergency the Palacio Cousiño museum, has taken healtn measures to protect both vistors and the staff in the following covid health protocol below wich visitors must be familiar with.
Before visiting:
For sanitary reasons reservations only by telephone (+56) 223867449
Every person in the group has to be registerd in the form (adults, children and seniors).
There is a 5 people limit per groupe on each guided visit.
You Will be able to schedule an specific day and hour, the museum staff will contact you by telephone or e-mail to confirm the appointment. If we have no availability for the date you want, we will suggest other day and hour.
Only confirm and registered people must come, there Will be no authorization for non-registered people to enter.
To enter:
Payment must be made with credit card or debit card, cash will not be accepted.
Face coverings are required at all times.
Temperature will be taken to every visitor and gel alcohol will be provided.
Every visitor must show their ID to confirm registered information.
Payment mus be made with credit card, or debit card, cash will not be accepted.
Visitors can not get in the museum without one of the tour guides and must remain with their group until the end of the visit.
Once the tour has started both visitors and the tour guide must stay on the marked places on each room to maintain physical distancing. In smaller rooms where is no possible to keep the distance the visitors will pass one by one previous explanation of the tour guide to avoid crowd.
The tour will last approximately 45 minutes.
The Palacio Cousiño hours are as follows:   
Tuesday to Friday from 10:00 a.m. to 4:00 p.m. Guided tours take place at 10:00 a.m., 11:00 a.m., 12:00 p.m., 2:00 p.m. and 3:00 p.m.
Saturdays 10 a.m. to 1:00 p.m. Guided tours take place at 10:00, 11:00 and 12:00 hours.
Closed on Sundays.